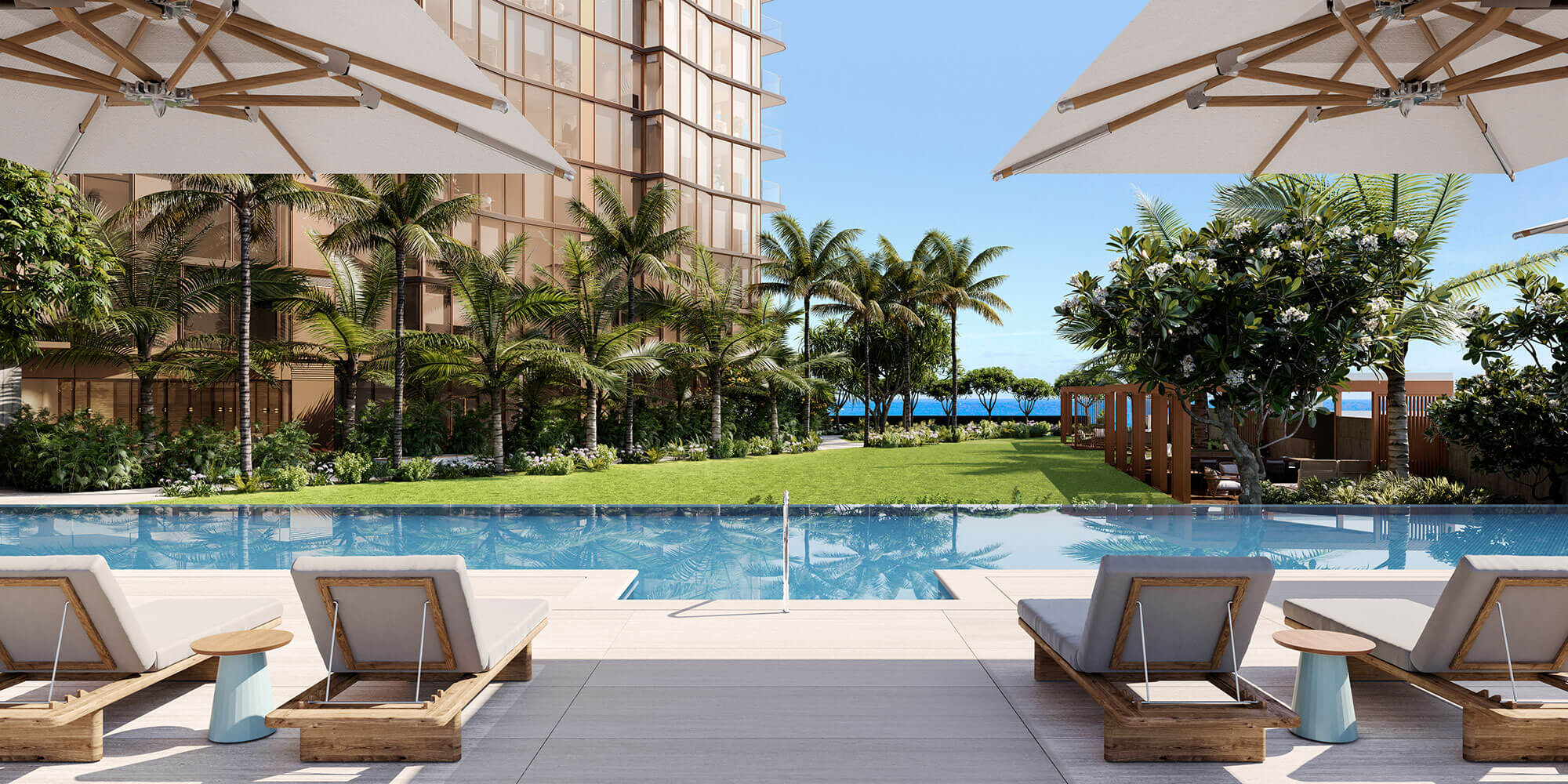 Discover Ālia's Inspired Amenities
March 24th, 2023
Reflecting the natural beauty of our island home, Ālia's amenities were all thoughtfully chosen to support residents' wellbeing, not to simply add to a list of offerings. To be sure, Ālia is a pinnacle achievement for sustainability and luxury, but with inspired amenities that cater to every need and desire, it's also the perfect place to rest, reset, and replenish. An inspired living experience that blends the natural environment with the wellbeing of residents, Ālia is a true oasis of comfort, beauty, and sophistication.
Like all Kobayashi Group projects, every detail of Ālia's amenities have been carefully considered to ensure the best possible experience for residents and guests. As an example, we have intentionally placed our amenities across two distinct areas. High-use amenities, such as the health club, basketball court, and movie theater, are located on the ground floor, providing easy access to residents and guests. Meanwhile, the sixth floor is home to the resort-inspired amenities that encourage relaxation and wellbeing, such as the pool, open lawn, and private dining rooms.
This thoughtful separation of amenities allows residents to easily navigate and find their perfect place within the building. It also ensures that the building truly caters to their specific needs and desires. On the ground floor, residents will discover a pickleball court, bowling alley, sauna, and salon/spa. Fitness enthusiasts will love our fully equipped gym and outdoor fitness stations and surfers will find that our convenient surfboard storage lockers make it easy to sneak in a dawn patrol or evening session. Families with children can make memories at the playground, while those seeking a moment of serenity can retreat to intimate areas surrounded by lush landscaping.
On the sixth floor, residents can indulge in a luxurious resort-style experience, complete with a family-friendly pool, an adults-only infinity pool, spas, a sauna and cold plunge, dog park, cabanas, and grilling stations. The private dining room and kitchen provide an elegant setting for intimate gatherings, while the library lounge and game rooms invite residents to relax and unwind, study with a tutor, or simply catch up with a friend.
Nestled within the heart of Kaka'ako, Ālia is a true testament to inspired luxury, combining stunning design with the unparalleled beauty of Hawai'i's natural environment. Brought to life by Kobayashi Group, residents will enjoy a seamless living experience surrounded by a thoughtful collection of amenities intentionally designed to elevate their daily lives.