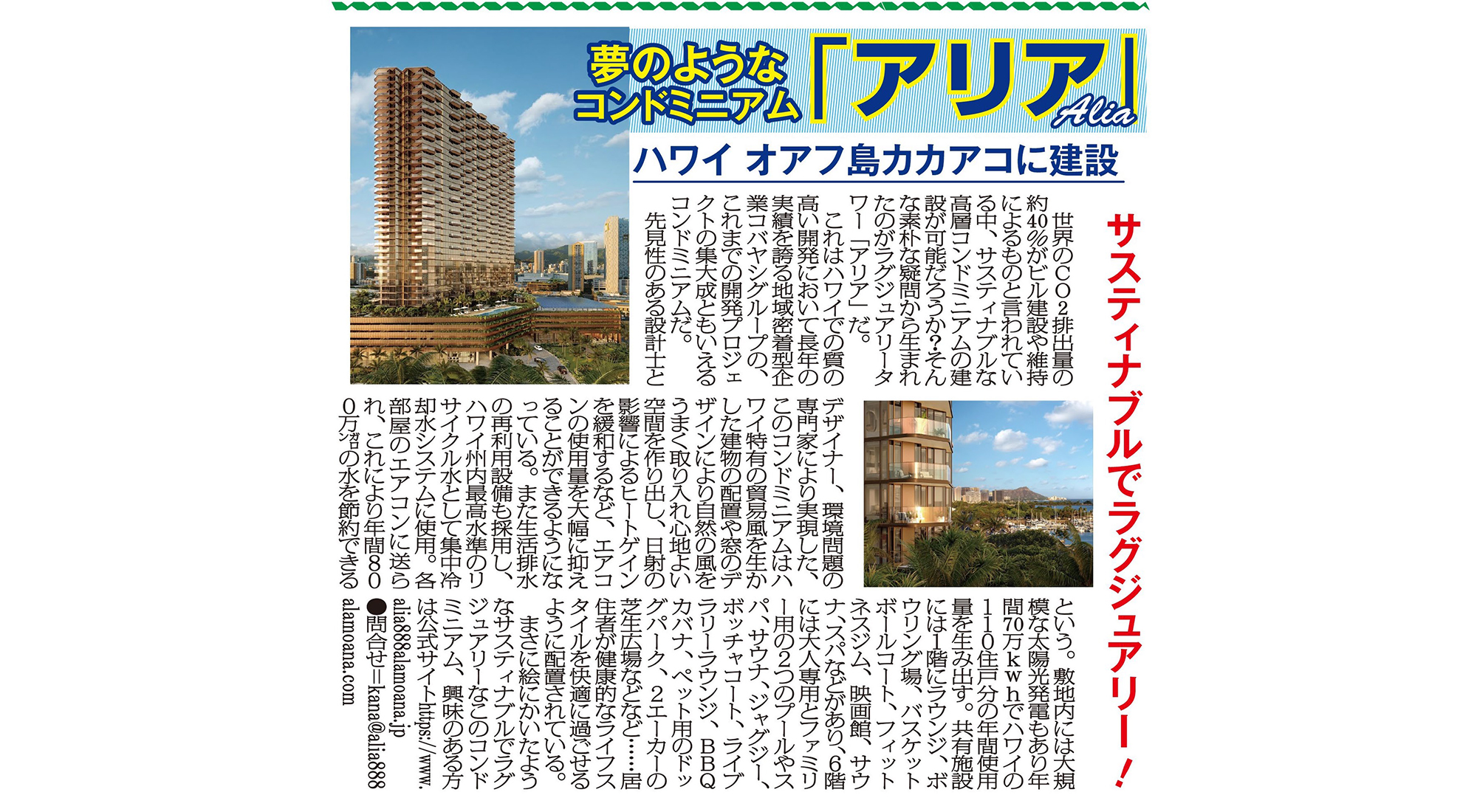 Japanese media highlights Ālia's approach to sustainable design
April 8th, 2023
We're thrilled to see Ālia recognized for its sustainability efforts and initiatives by Nikkan Gendai. Recently, our sustainability initiatives were highlighted in a story showcasing the residence's advanced approach to design. We're honored to be featured and look forward to connecting with our friends from Japan in Honolulu soon.
For translation to English, see below:
Sustainable and Luxurious!
Dreamy condo, Ālia, to be built in Kaka'ako, O'ahu, Hawai'i!
It's said that about 40% of the world's CO2 emissions come from building and maintaining buildings. The question was: is it possible to develop a sustainable luxury condominium? This high-rise condominium Ālia was born from such a simple notion.
This condominium is the culmination of a series of development projects by the Kobayashi Group, a community-based company with a long track record of quality development in Hawai'i.
The condominium was designed by visionary architects, designers, and environmental experts to take advantage of Hawai'i's unique trade winds, and the layout of the building and the design of the windows allow natural breezes to flow in and out, creating a comfortable space and reducing heat gain from solar radiation, which in turn significantly reduces air conditioning use.
The use of air conditioners can be significantly reduced by mitigating the heat gain caused by solar exposure. The building also employs facilities to reuse domestic wastewater, which is used in the centralized cooling water system as the highest level of recycled water in the state of Hawai'i. The water is sent to the air conditioners in each room, which saves 8 million gallons of water per year. There is also a large solar power generation system on site that produces 700,000 kwh per year, which is equivalent to the annual usage of 110 residential units in Hawai'i.
Common facilities include a lounge, bowling alley, basketball court, fitness gym, movie theater, sauna, and spa on the first floor, and two pools, one for adults and one for families, spa, sauna, Jacuzzi, boccia court, library lounge, BBQ cabana, pet Dog park, 2 acres of lawn and more…all arranged to allow residents to live a healthy lifestyle in comfort.