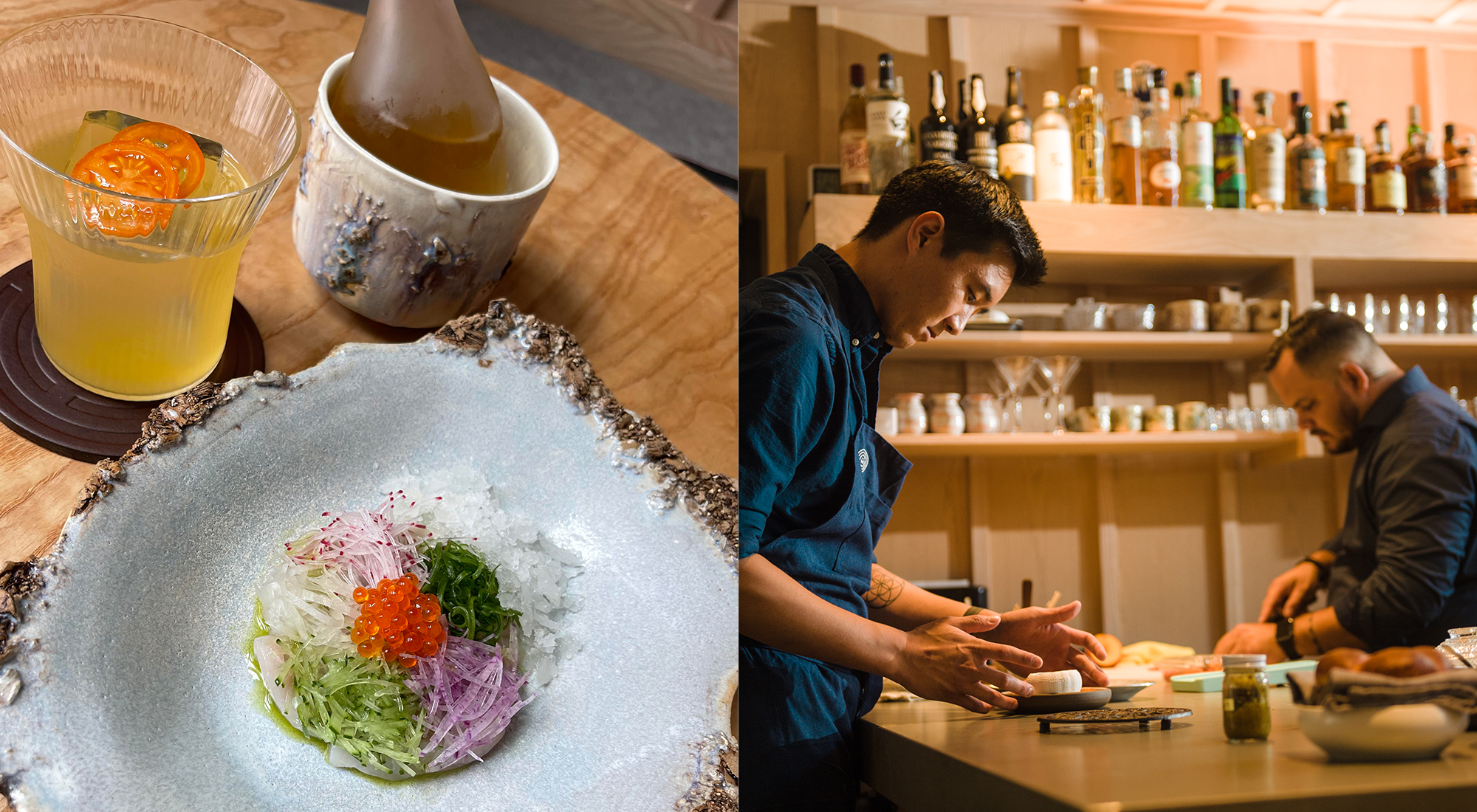 Kaka'ako Neighborhood Guide: Spirits Soar and Flavors Shine at Bar Maze
April 27th, 2023
Situated just a short walk from Ālia, residents will undoubtedly relish an evening spent at Bar Maze. As the brainchild of Justin and Tom Park, the team behind the award-winning Bar Leather Apron, Bar Maze takes the concept of pairing food and drinks to a whole new level by crafting a one-of-a-kind dining experience that brings together the best of both worlds.
The culinary team at Bar Maze is led by Head Chef Ki Chung, who has worked at multiple Michelin-starred restaurants across the country, including The French Laundry, The Fat Duck, and most recently, Aubergine. Under his leadership, the kitchen at Bar Maze carefully executes a delectable dinner menu that plays upon the bar's renowned libations, creating an omakase-inspired experience that's like nothing else in the city.
Co-owner and renowned head bartender Justin Park has become a leading figure in the cocktail world, revered for his imaginative creations and detailed approach. He's also a three-time winner of the "World's Best Mai Tai" competition and has earned numerous other awards, including being named a finalist in this year's James Beard Awards, for his cocktail creations at Bar Leather Apron.
Both Justin and Ki are masters in their fields and their collaborative approach at Bar Maze catapults the experience into a new realm. Together, they've reimagined the traditional concept of pairing in which a drink is simply meant to complement the flavors of a dish–instead, they aim to create a collaborative and immersive experience intertwining the cocktail and the dish, yielding flavors sure to leave you speechless.
Take, for example, the way they've elevated a Hokkaido scallop in past tasting menus. The tender texture of the shellfish is perfectly enhanced by zesty green apple, crunchy pistachio nuts, zesty calamansi, and a touch of wasabi. To take the flavors to the next level, the dish is paired with a refreshing cocktail blend of shochu, vodka, sweet mango, tangy tomato water, fragrant elderflower, and citrus bubbles.
"We use the term 'pairing' because that's a concept that people understand," Justin told Honolulu Magazine. "But it's more than a pairing … we're integrating cocktails and food in a way that no one's ever done."
Bar Maze is also a feast for the eyes. The interior is sleek and modern, with an open kitchen where diners can watch the culinary team at work. Despite the detail-driven approach, the atmosphere feels light and welcoming.
Recently, Ālia was honored to partner and work with the team at Bar Maze. Their creative approach and attention to detail speaks to many of the same attributes that we hold dear. From the gorgeous interiors to the artful dance between food and drink, we're delighted to highlight this visionary team and Kaka'ako neighbor.