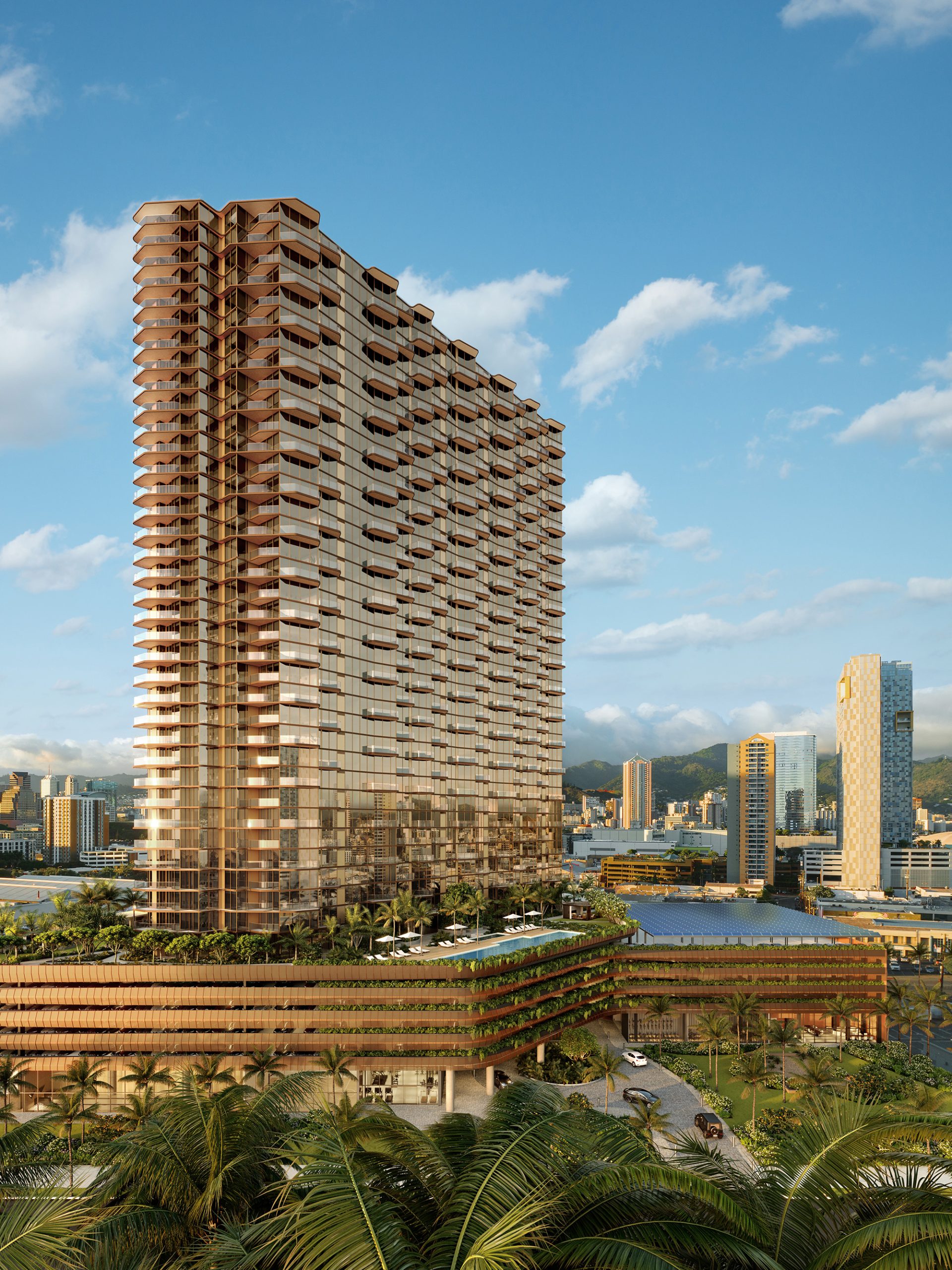 Kobayashi Group Selected To Develop Block I Ālia, Mixed-Use Development
March 22nd, 2022
The Kobayashi Group has been selected to develop Block I in the vibrant urban community of Our Kakaʻako. The project name, Ālia, is the latest mixed-use development in Kamehameha Schools' (KS') Kaiāulu 'o Kaka'ako master planned community. Ālia is the Hawaiian word for salt bed and represents the salt flats that historically comprised the region.
Ālia features a diversity of 477 new homes in the planned 400-foot structure, of which 437 units will be available at market price and 40 homes will be in reserve housing. It will also include 3,500 square feet of ground-floor commercial space that will create a pedestrian friendly experience, community interaction, and urban outdoor living. Construction is expected to break ground in 2023.
The project is bordered by Ala Moana Boulevard, Koula and Auahi Streets. The Diamond Head border adjoins the former Bank of Hawaiʻi property on the corner of Ward Avenue and Ala Moana Boulevard.
"We are excited to bring this project to fruition after years of careful planning and consideration," said Alana Kobayashi Pakkala, partner and chief operating officer of Kobayashi Group. "Since Kobayashi Group had been involved in a previous project on the site, it's gratifying for us to have the opportunity to   develop a community that celebrates calling Hawaiʻi home so special – beautiful and thoughtfully designed homes with amenities that foster a healthy and outdoor lifestyle and pave the way for memorable experiences with friends and family."
In keeping with KS' Kaiāulu 'o Kaka'ako Master Plan's commitment to providing diverse housing options, walkable and open gathering spaces, Ālia will feature 50 percent more recreation space and 70 percent more open space than required by the Hawaiʻi Community Development Authority (HCDA). These spaces will be programed for residents and the community to gather and enjoy the outdoors in this dynamic and active community. The Kobayashi Group will also design Ālia with a focus on sustainability, integrating industry-leading strategies to reduce the building's carbon footprint.
"We are enthusiastic to work with The Kobayashi Group as they add to the melting pot community of Our Kaka'ako," said Serge Krivatsy, KS commercial real estate director of planning and development. "Kamehameha Schools' vision for Our Kakaʻako is built in diversity, vibrancy, and a cultural connection to this place. Ālia is the ninth project of our master plan, and KS remains committed to its kuleana of stewarding Our Kakaʻako as part of our ʻĀina Pauahi landholdings, to fulfill our mission of serving Native Hawaiian learners."
Ālia is expected to start sales by the end of 2022.