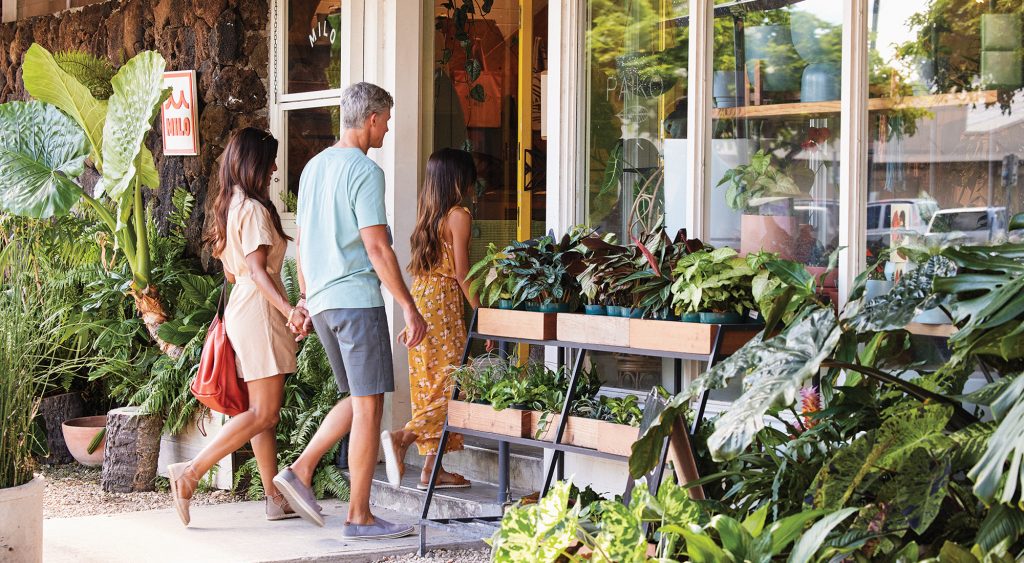 Wonderfully Walkable
March 15th, 2023
It's a Saturday morning and Kaka'ako's colorful streets are buzzing with activity. To your left, you spot a small group of friends mural hunting through the vast collection of neighborhood art, taking selfies in front of their favorite pieces. To your right, a group of runners politely shuffles past a large family en route to brunch. The streets are thriving as pedestrians wander into shops and specialty boutiques, mingle with baristas, and leisurely walk their dogs, catching up with friends along the way. So what's the secret to creating a community teeming with energy? Here's a hint: it has to be walkable.
As it turns out, when we opt to leave the car at home and interact with our community on foot, amazing things happen as neighborhoods come into bloom.
What, exactly, is a walkable community and what makes it so special? Just as you might expect, walkability is a term that refers to how convenient it is to explore a neighborhood by foot. While government agencies, nonprofits, and advocacy groups have been working to promote the benefits of walkable neighborhoods for years, many cities in the United States have only recently begun to see the results of these initiatives.
According to Walk Score, a platform that analyzes neighborhoods across the country, more than 140 American cities have a walk score of less than 50/100. Kaka'ako, however, with its wide sidewalks, bike lanes, dynamic businesses and residences, scores an impressive 89/100 and was especially noted as being "very walkable, allowing most errands to be accomplished on foot."
Numerous studies and urban planners from across the world can attest to both the economic, community health, and environmental benefits of living in a walkable community. Not only do we see new energy injected into our streets, but when we include walking into our daily routine, our bodies begin to thank us. Studies have shown that consistent moderate exercise like walking has been proven to increase endorphin levels, which in turn lowers stress and better sleep, all of which results in a happier you. Research examining cities in California has even shown that walkable neighborhoods literally have lower levels of diabetes and heart disease compared to others that rely heavily on their cars for daily transportation. Walkable neighborhoods are also safer. When cities place a premium on promoting pedestrian traffic, we find lower amounts of traffic accidents and crime.
As the most sustainable luxury high-rise in Hawai'i, it should come as no surprise that we're passionate about preserving the health of our planet and community. And with nearly 300 million cars on the road, the transportation sector is the largest emitter of carbon emissions in the country. So while it may not seem like a big act, every time we choose to leave the car at home and commute on foot, we're setting the groundwork for a healthier tomorrow, both for ourselves, and the planet.
Now, who feels like going for a stroll?